The Importance of Regular Industrial Warehouse Cleaning: Safety and Productivity in the Balance
In the vast expanse of industrial warehouses, a clean environment is often overshadowed by other operational concerns. Yet, the significance of regular cleaning in these spaces cannot be stressed enough. Alpine Building Maintenance & Supply delves deep into understanding why routine industrial warehouse cleaning is pivotal for both safety and productivity.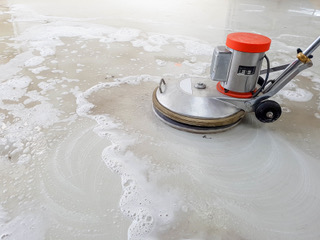 The Link between Cleanliness and Operations
Cleanliness is not just an aesthetic concern for warehouses; it directly influences how efficiently a warehouse operates and how safe its workers are.
Safety First: The Direct Impact of Clean Warehouses
Slip and Fall Prevention: Dust, debris, and liquid spills can create hazardous conditions. Regular cleaning ensures that these risks are promptly addressed, protecting workers from accidents.
Fire Hazards Minimized: Dust and debris are also combustible. Piling up of such materials increases the risk of fires, emphasizing the need for routine cleaning.
Better Air Quality: With the use of machinery, warehouses can accumulate exhaust fumes and dust. Regular cleaning ensures better ventilation and air quality, protecting workers' respiratory health.
Productivity Boost: A Clean Warehouse is an Efficient Warehouse
Swift Movement and Operations: Without obstacles like misplaced items or debris, workers can move faster, and machinery can operate without hindrance.
Fewer Equipment Breakdowns: Dust and grime can affect machinery efficiency. Regular cleaning extends the lifespan of machines and reduces downtime.
Improved Inventory Management: With a cleaner environment, stock and inventory management becomes more streamlined, reducing misplaced or lost items.
Alpine Building Maintenance & Supply's Commitment to Excellence
At Alpine Building Maintenance & Supply, we understand the intricacies of warehouse operations. Our services are:
Tailored to Your Needs: We customize our cleaning schedules to minimize disruption to your operations.
Eco-Friendly Solutions: We utilize green cleaning solutions, ensuring that your warehouse remains environment-friendly.
Skilled and Trained Staff: Our team understands the unique challenges presented by industrial warehouses, ensuring thorough cleaning without compromising on safety.
The Cost Implications: Investment vs. Long-Term Savings
Though there's an upfront cost associated with regular cleaning, the long-term savings in terms of reduced machinery maintenance, lesser downtime, and decreased accident-related expenses make it a worthy investment.
A Call to Prioritize Warehouse Maintenance
A clean warehouse is more than just a visual treat. It's a space where workers can operate safely and where machinery and operations flow seamlessly. As a leading figure in the cleaning industry, Alpine Building Maintenance & Supply emphasizes the need for industrial warehouse cleaning, not as a mere routine but as an essential pillar of efficient and safe operations. Contact us today!